North Shartel Storage
405-818-9541
North Shartel Storage is an inexpensive self storage facility with cheap prices located in north OKC, in the 73116 zipcode. It's on the NE corner of NorthWest 68th and Shartel, just north of ReidPro Graphics.
We're American owned and locally owned.
If you're finding storage units on Sparefoot, they are a national company that lists storage places and they take a commission. Call us direct.
We do not offer "1st month free". That's just a way some places use to lure you in. They usually require a contract and as soon as that contract expires, they raise the rent on you, everytime the contract is renewed. We don't have contracts requiring a minimum time.
It's month to month.
It's pro-rated.
There is a $40 refundable deposit you get back when it's cleaned out.
Both inside and outside walls are made of cinder blocks. No tin here.
The roof is made of solid concrete T Beams. There is a light and electricity in the units.
There is no fence at this facility. Only your lock on the door.
We have two sizes to choose from. See prices below. Call the number above for availablility.

Available Units
Location


6900 N. Shartel
OKC, OK 73116

Send payments to:

Shartel Storage
6217 Commodore Ln
Oklahoma City, OK 73162-6814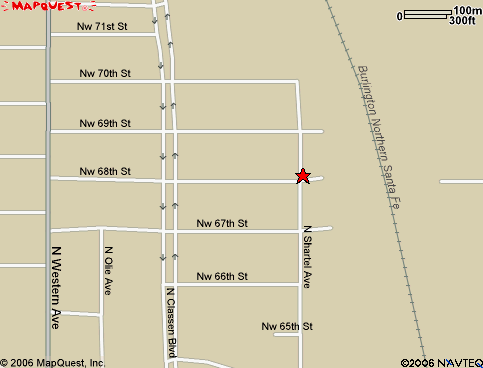 Due east of Earl's BBQ or go north on Shartel from 63rd